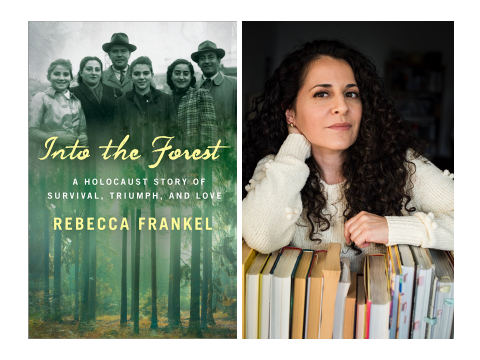 Author Talk: Rebecca Frankel 'Into the Forest, A Holocaust Story of Survival'
In the summer of 1942, the Rabinowitz family narrowly escaped the Nazi ghetto in their Polish town by fleeing to the forbidding Bialowieza Forest. They miraculously survived two years in the woods—through brutal winters, Typhus outbreaks, and merciless Nazi raids—until they were liberated by the Red Army in 1944. After the war they trekked across the Alps into Italy where they settled as refugees before eventually immigrating to the United States.
During the first ghetto massacre, Miriam Rabinowitz rescued a young boy named Philip by pretending he was her son. Nearly a decade later, a chance encounter at a wedding in Brooklyn would lead Philip to find the woman who saved him. And to discover her daughter Ruth was the love of his life. From a little-known chapter of Holocaust history, one family's inspiring true story.
Rebecca Frankel is the author of New York Times bestselling book, War Dogs: Tales of Canine Heroism, History, and Love, and Into the Forest: A Holocaust Story of Survival, Triumph and Love, which was named one of "The Ten Best History Books of 2021" by Smithsonian Magazine. A longtime editor and journalist, Rebecca was formerly executive director of Foreign Policy magazine and managing director of Momentmagazine. Her articles have appeared in New York Times, The Wall Street Journal, and Washington Post and elsewhere.
This event is co-sponsored by Congregation Shirat HaYam.
Free admission. Masks required.