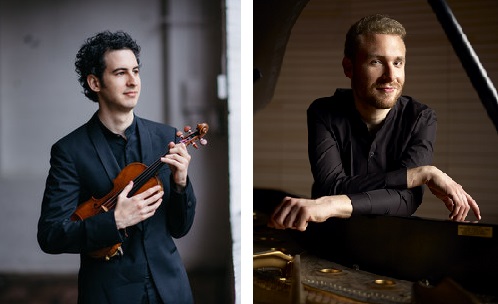 Nantucket Music Society: Itamar Zorman & Adam Golka (Violin & Piano)
Join us at the Atheneum for a chance to meet the talented musicians of the Nantucket Musical Arts Society for an informal Q&A before their formal concert on Tuesday.
This Monday, August 15th, features Itamar Zorman & Adam Golka  (Violin & Piano)
Itamar Zorman is one of the most soulful, evocative artists of his generation, distinguished by his emotionally gripping performances and gift for musical storytelling. Since his emergence with the top prize at the 2011 International Tchaikovsky Competition, he has wowed audiences all over the world with breathtaking style
Polish-American pianist Adam Golka first performed all of Beethoven's Piano Sonatas when he was 18 years-old, and in 2020-2021 Adam Golka performed the cycle of Beethoven's 32 Sonatas at the Bach Festival Society of Winter Park (Florida) and at Saint Thomas Church Fifth Avenue (NYC), in socially-distanced and live-stream formats. Adam's performances of each Sonata were complemented by 32 short films he created, known as 32@32 (available on YouTube), documenting his preparation for climbing the Everest of piano literature and featuring an amalgam of distinguished guests, from an astrophysicist to Alfred Brendel.
See more information about The Nantucket Musical Arts Society Here
Free Admission, Masks Required