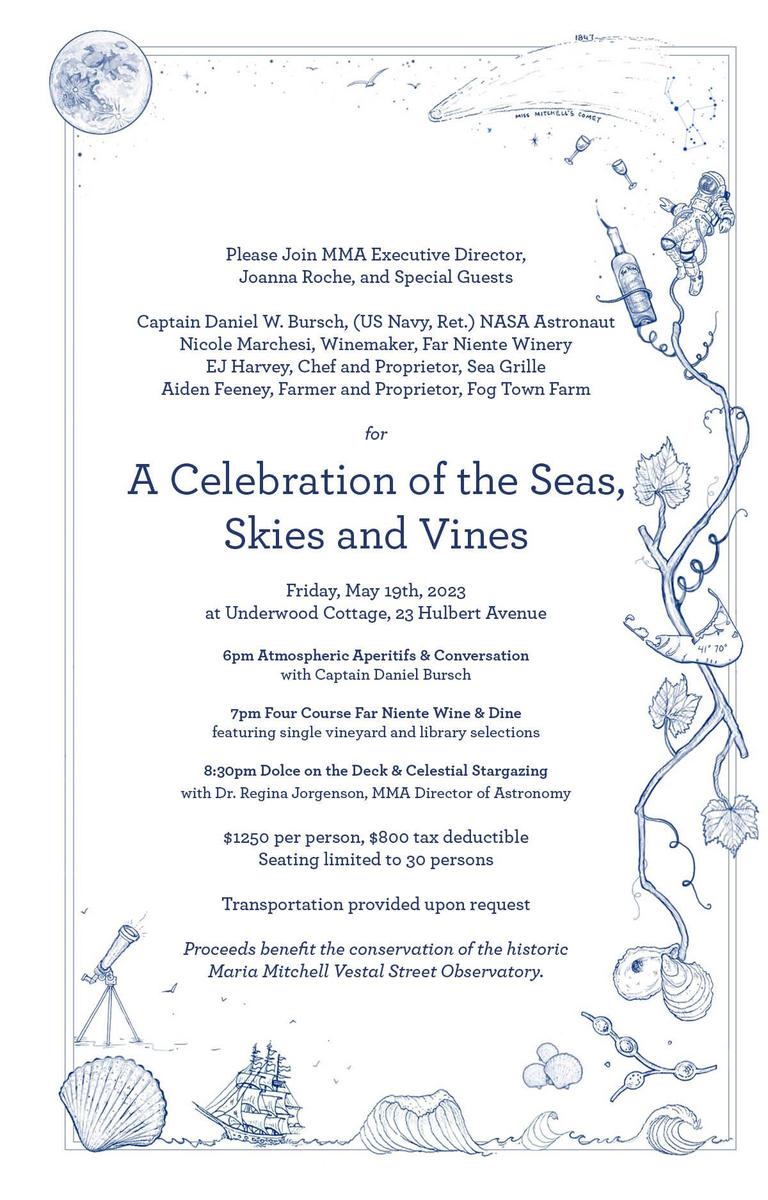 A Celebration of the Seas, Skies and Vines: A Winemaker Dinner
On Friday, May 19th, a group of MMA fans, including US Naval Captain (Ret.) and NASA Astronaut, Daniel Bursch; the infamous Chef and SeaGrille proprietor, EJ Harvey; Fog Town Farm proprietor, Aiden Feeney; Far Niente Winery winemaker, Nicole Marchesi; Nantucket Meat & Fish Market general manager, Ethan Potter; and our own astronomer, Dr. Regina Jorgenson, have teamed up to present a delicious and magical evening that will make for great memories. And, you're invited!
In addition to getting the inside scoop and first hand account of Daniel's experiences during his six missions to outer space and hearing what really happens in the galaxy, we will indulge in Far Niente Winery's collection wines paired with EJ's specialty dishes prepared lovingly with Fog Town Farm's seasonal produce. As dusk fades, we will stargaze on a deck overlooking Nantucket Harbor – all to benefit the Maria Mitchell Association.
All parties involved are donating their time/product/service for this special evening; the proceeds will benefit the conservation of the historic Maria Mitchell Observatory on Vestal Street. Seating is limited. If you're interested click below to purchase a seat! If you have questions, please email or call Logan Gomes 508-228-9198.
Transportation provided upon request.