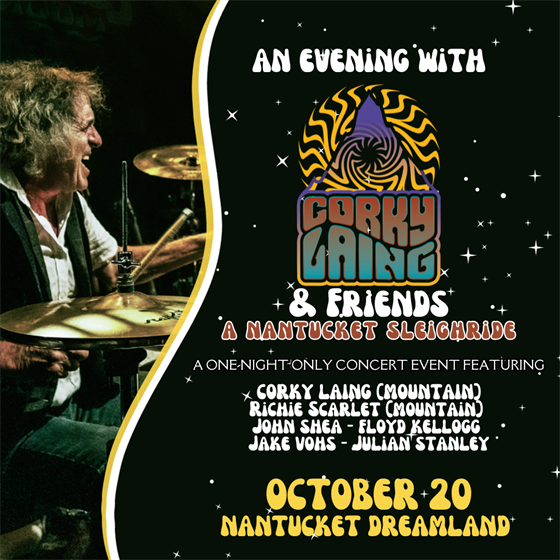 An Evening with Corky Laing & Friends – A Nantucket Sleighride
Join us at The Dreamland for An Evening with Corky Laing, a legendary rock n' roll star of the 1970's pioneering rock band Mountain, AND a long-time Nantucketer! Hosted by actor and director John Shea, the multi-media concert will feature performances that highlight Corky and Mountain's repertoire that was written on Nantucket, including songs like Mississippi Queen and Nantucket Sleighride.
Also featuring island guests: Floyd Kellogg, Julian Stanley, Kelly Barrett, Jake Vohs, Vick Ferrantella, MC John Shea, PLUS special and nationally-known guitarist from Mountain, Richie Scarlet.
Throughout the performance, there will be a rotating photo show projected on the screen displaying Corky's Nantucket-related memories from over the decades.
This is a one-night-only event with one of Nantucket's legendary sons, don't miss out and get your tickets today!
General Public: $40 + $3 service fee, Dreamland Members: $35 (and no service fee)