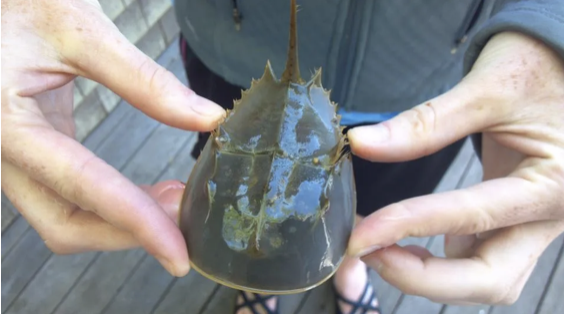 Horseshoe Crab Solstice Walk
Horseshoe crabs were some of Earth's first astronomers! For over 450 million years, horseshoe crabs have been precisely coordinating their spawning behaviors with the lunar cycle to protect their eggs from marine predators. In celebration of International Horseshoe Crab Day and the summer solstice, join MMA Director of Astronomy Dr. Regina Jorgenson and MMA Aquarium Director Jack Dubinsky on a special interdisciplinary night walk on the beach as we search for horseshoe crabs, learn about horseshoe crab biology, and discuss the physics of lunar phases, seasons, and tides! We will also observe constellations and discuss how marine organisms, including horseshoe crabs, may use Earth's magnetic field to navigate in the ocean.
This program is designed to be interesting for adults and children ages 13 and older. Horseshoe Crab Solstice Walk meets at the Madaket Harbor on Massachusetts Avenue, Madaket. All registered children must be accompanied by a registered adult to participate in this program. Pre-registration is required for this nighttime program. Registration closes at 4pm on the day of the program. Flashlights or headlamps will be provided, but it is recommended that you bring your own lighting. Personal transport to and from the meeting location is required to participate in the event of inclement weather, this program will be cancelled and participants notified.
Contact email: jdubinsky@mariamitchell.org