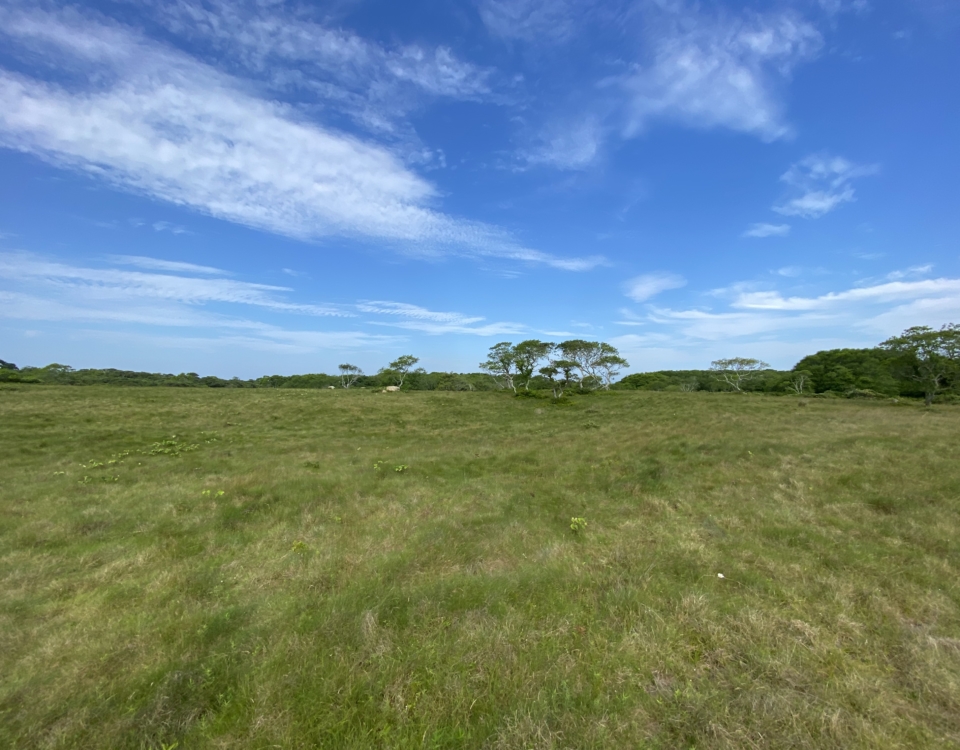 Nantucket Walkabout – Beechwood Farm Loop
A microcosm of the adjacent 6,700-acre Middle Moors, the Nantucket Islands Land Bank's Beechwood Farm property in Polpis shares almost all of the elements of the maritime or, coastal heathlands habitat surrounding it. Upland meadows are dotted with native tree species including black cherry and various oaks including their shrub cousin, scrub oak, and Eastern red cedar. Interspersed among the meadows and upland forests are a maze of wetlands, connected by streams, bursting with waist-high cinnamon ferns sprouting from sphagnum moss beds surrounded by sweet pepper bush with a canopy of black tupelo, red maple, white and black oaks, and sassafras trees. At times, one can feel they are exploring Yoda's home swamp planet of Dagobah of Star Wars fame.
Meandering through part of this magnificent property is an elevated wooden walkway affording walkers a closer look at these wetlands without getting their feet wet and muddy, and causing irreparable damage to the fragile soils, plants and root systems.
In 2013, the Land Bank and the Nantucket Conservation Foundation (NCF) purchased 207 acres of the Middle Moors, originally known as Norwood Farm, from its long-time owners who, miraculously, never developed any of it. The Land Bank got the 76-acre eastern portion and NCF, 131 acres to the west. Seven years later in 2020, the Land Bank was able to acquire 19.8 additional acres from the same owners, bringing its total to 95.8 acres.
Renaming its part of this beautiful property Beechwood Farm, the Land Bank pays homage to Polpis once having the highest concentration of farms on Nantucket where cranberries and peat were grown along with grazing sheep and cattle. The Land Bank provides wide mown grass trails through meadows, past wetlands, over hills, along forests and the elevated boardwalk leading up to a hill with an excellent 360-degree view of the Middle Moors.